​Good Afternoon!

This is our first daily TRUE HERO MISSIONS newsletter.

Yes, we changed our name to "True Hero Missions" because, frankly, it was hard for people to remember "INVICTA Challenge".

Despite the new name, we have the same ambitious mission – to get kids and families reading, developing character and leadership skills, and building PRIDE IN AMERICAN HEROES AND HISTORY!

When we launched a few years ago a neighbor told me, "Wow, you are trying to do all three of those things? Even one of them is hard! You must be a glutton for punishment."

Yes… yes, we are… so much so that we are doubling down and launching a new app on May 18, 2021. And we will be unveiling a lot more content and products in the coming months.

There is no way we can stop when we have such amazing stories to tell.

PLEASE LET US KNOW WHAT YOU THINK OF WHAT WE ARE DOING! You can email us at editor@trueheromissions.com



The below image, story and links are what are what our newsletters will be about. Our first story is about the the great Butch O'Hare, who became the United States Navy's (go squids) first flying ace on February 20, 1942.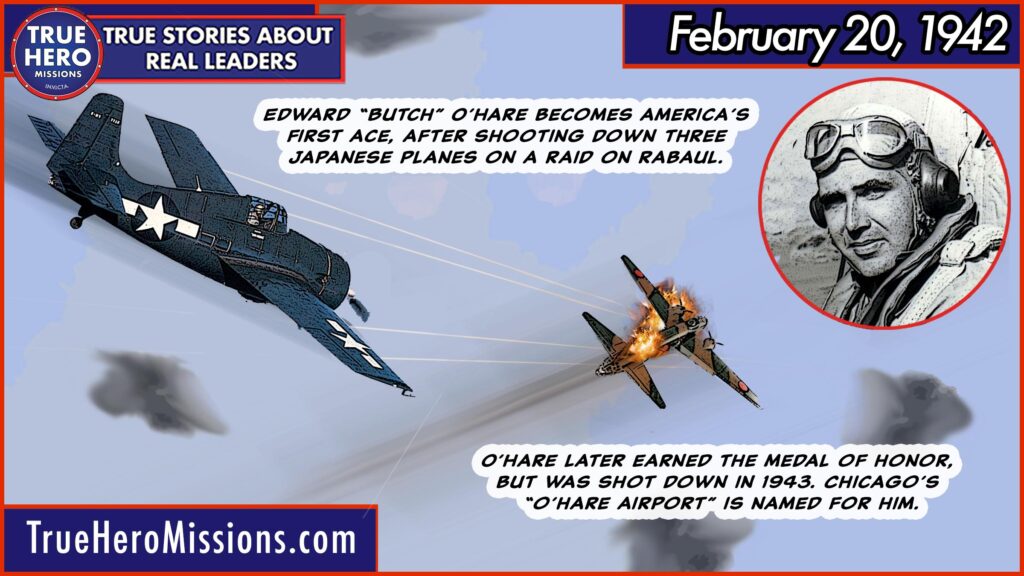 O'Hare shot down five Japanese bombers on February 20, 1942 and went on to earn the Medal of Honor. Every American should honor and remember him. At the very least, every American should know his name, since one of the world's busiest airports is named for him.
His origin story (to borrow a comic book phrase) is amazing. You can read it in this St Louis Magazine story, but, in a nutshell, O'Hare's father, EJ O'Hare, was the man who turned over Al Capone's financial records to the IRS (at the Missouri Athletic Club, for all our friends in St Louis.)

Three other other notable historical moments:
And two things to cheer:
That's all for today, but much, much more to come! If you want to see our new website, check it out here.Thank you for the support and keep the faith!