I made a post about Mack Alvin Jordan, who earned the Medal of Honor on this day in the Korean War. His physical courage and drive and what he did in combat are unbelievable. What's also crazy, though, is how when you scratch the surface on a story like this, the other soldiers and leaders who were with Jordan on that day were GIANTS as well.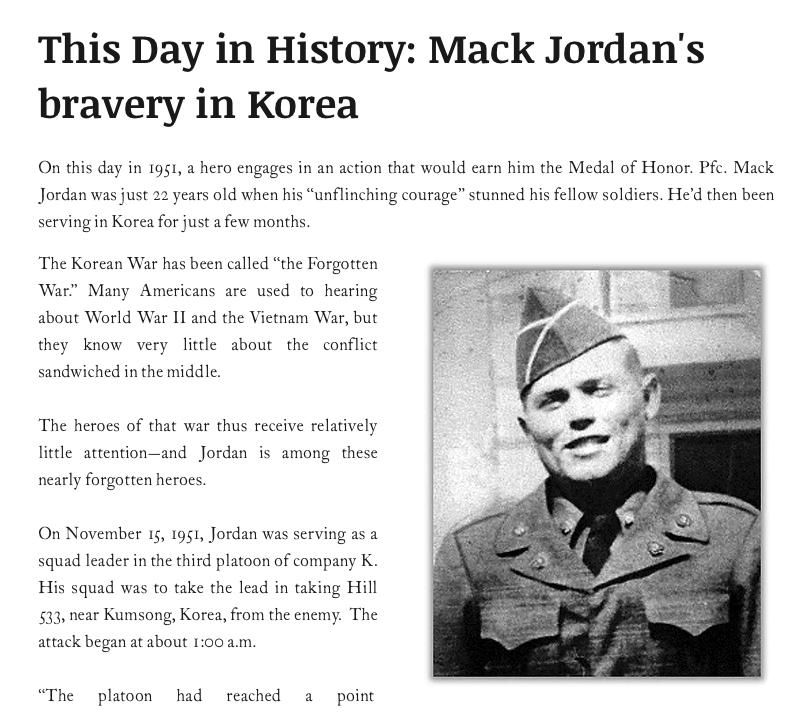 There are not many easy to find photos of Johnson, who was born in Collins, Mississippi, and most online sources don't have much more than his Medal of Honor citation. The great @tarajohnson, a patriot whom you should follow, wrote the best post that I could find on Johnson two years ago that linked to primary sources and newspaper articles.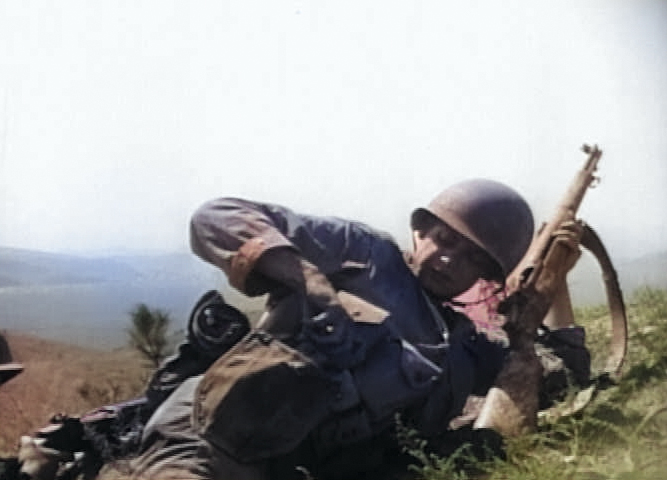 Six foot, five inches tall, Johnson was a squad leader in Kilo Company, 21st Infantry Regiment, 24th Infantry Division on November 15, 1951, when his company was ordered to seize a hill in a night attack. (Digression: I need to learn more about night operations in the Koran War as my assumption is that the American military did not embrace night time fighting until Vietnam.)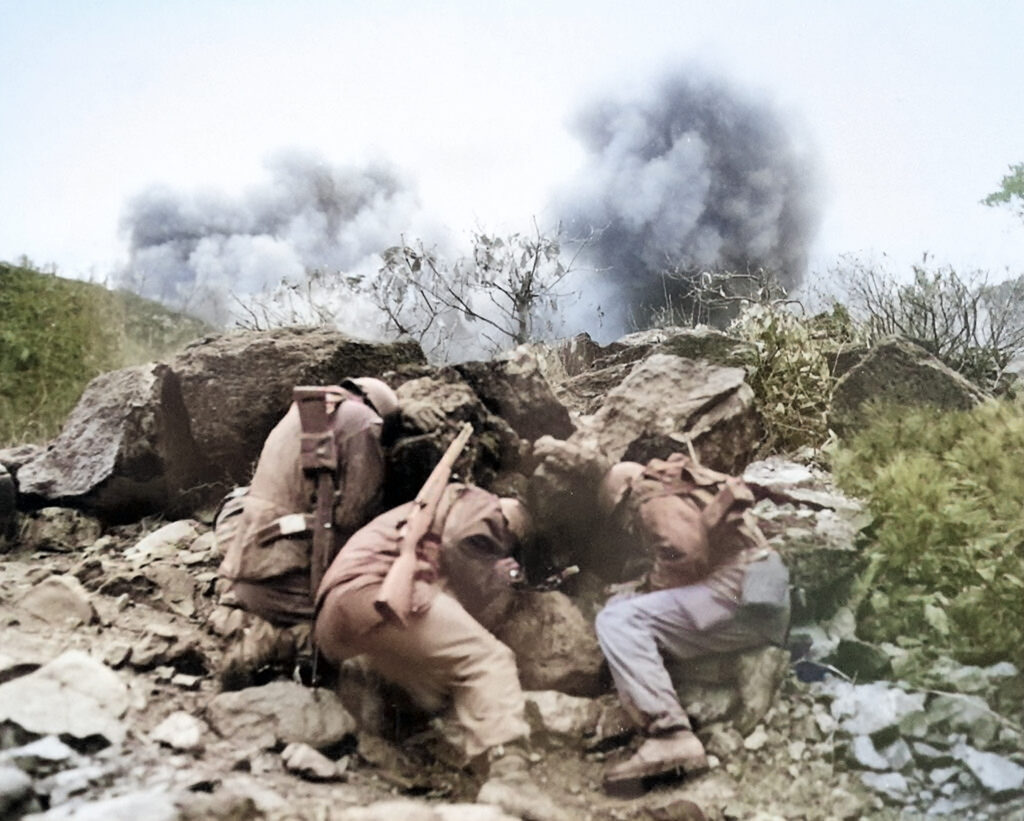 The attack stalled and Jordan's platoon fell back to regroup. Jordan, however, crawled forward alone and killed some enemy machine gunners before he was badly wounded by enemy explosives. (The articles say a "packet of explosives". Was that some kind of satchel charge? Any Korean War historians please chime in.)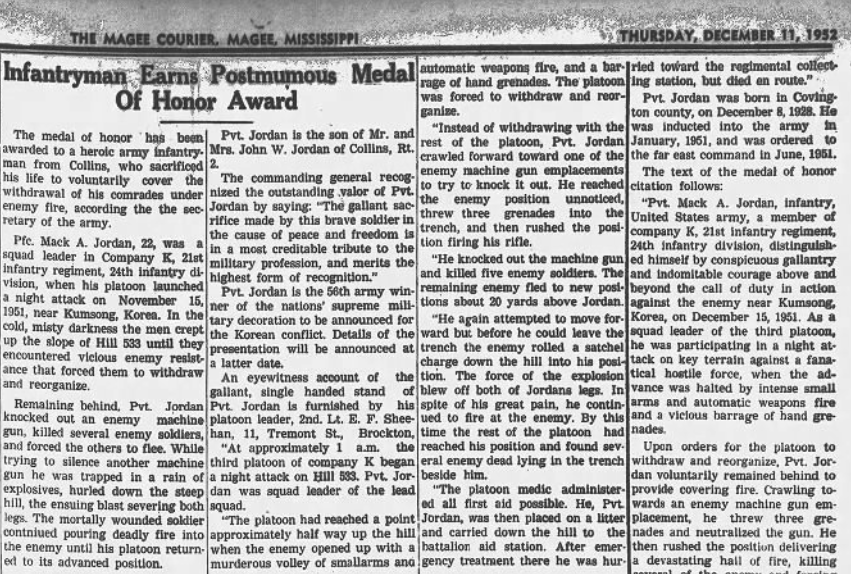 Jordan had both of his legs blown off, but he stayed in the fight. When the rest of the platoon fought their way back up to him, moments later, they found him firing away at the communists.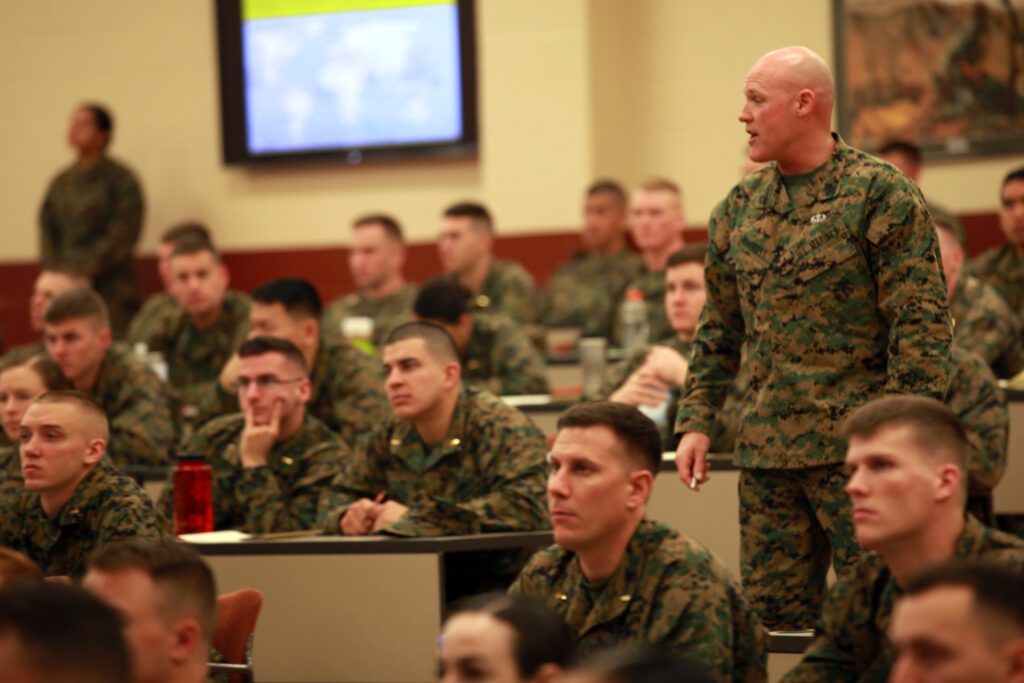 (I remember an instructor reading this Medal of Honor citation to an auditorium of Second Lieutenants at The Basic School years ago. He stopped at the part in the citation that notes that Jordan kept fighting after his legs had been severed and he repeated that section three times. After, he said, "if that soldier could keep fighting after his legs had been blown off, you all can sure as hell stay awake in my class." It was an attention getter.)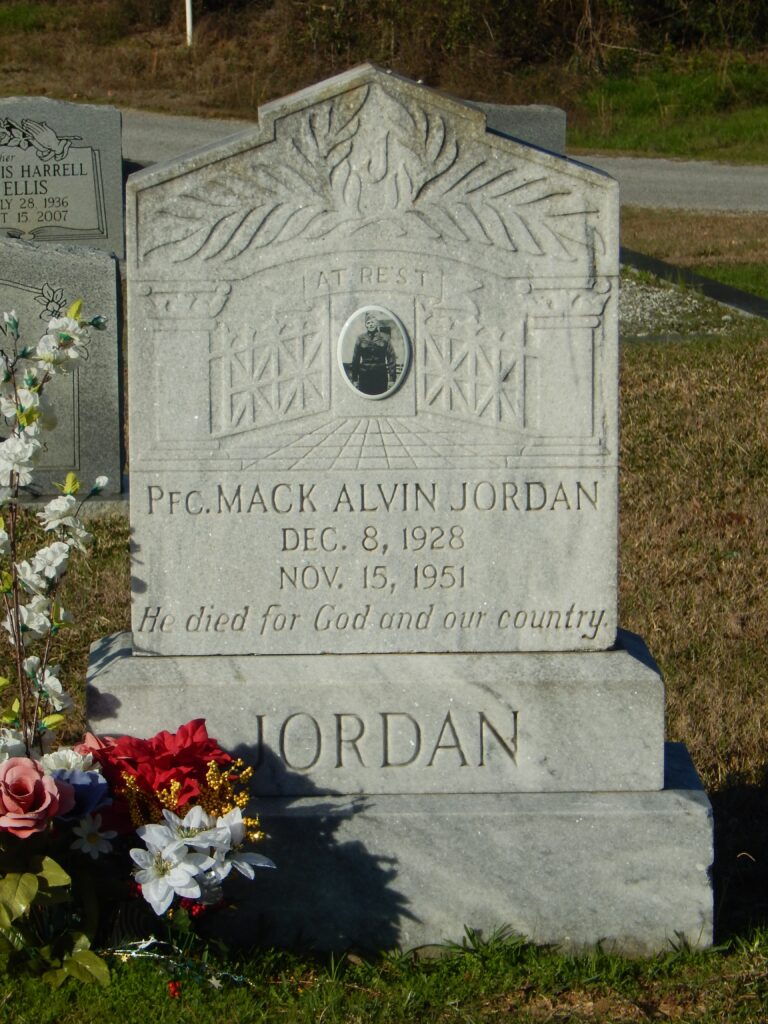 I will pause to say – Honor and remember Mack Jordan, a great American whom we all should know!
The newspaper articles cite Lieutenant EF Sheehan, Jordan's platoon leader, as the eye witness for his Medal of Honor. A very quick search shows that Sheehan, a Massachusetts Irish-American was a warrior in his own right. Edward Francis Sheehan died in 2019 in Alaska, and he served 21 years in the American military. Enlisting in the Marine Corps in 1949 right out of high school, he somehow inter-service transferred to the Army when the Korean War broke out because the Corps would not send him to Korea.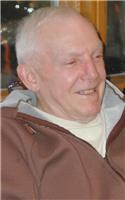 Volunteering for Task Force Smith, Sheehan fought in the first battle by the American Army against North Korean troops at San in June 1950. By late 1951, he had earned a battle field commission and was leading troops in Mack Jordan's company.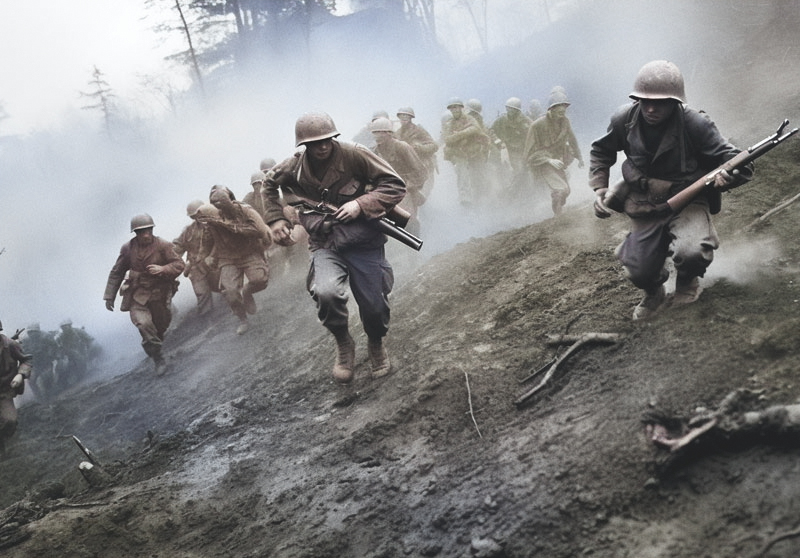 After the Korean War, Sheehan served in Europe, then as the operations officer for the Ranger Department. (Again, Army historians, feel free to help me out. My understanding is that there were no active Ranger units between Korea and Vietnam, so I assume this was a training detachment of some kind.) In 1964, he went to Vietnam with the 101st Airborne, where he was XO of the 1st Brigade, and then was an ARVN Ranger advisor. Sheehan earned the Bronze Star with Combat "V", among many other awards, during his service.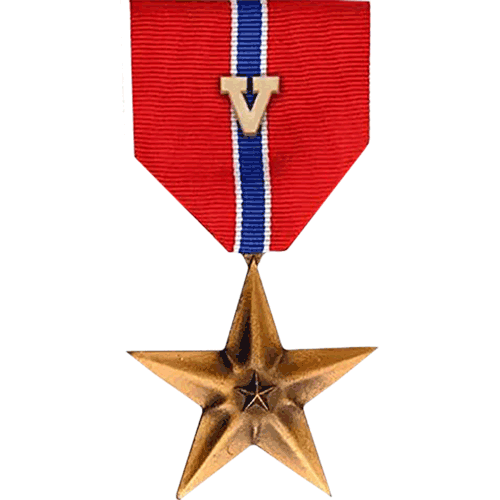 In between, Sheehan served in Alaska and he was an expert in cold weather warfare, which is natural given his initial combat experience in Korea. Sheehan retired to Alaska in 1971, where he raised his family and served as a civilian at the Army's Cold Regions Test Center. He was a rugged individual and keen outdoorsman. He passed in 2019 and you can read his obituary here.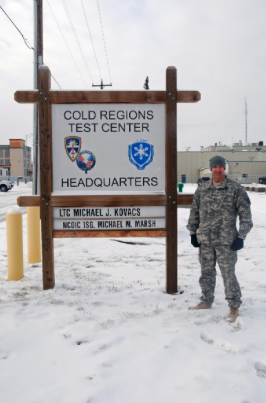 Today I am remembering Mack Jordan, Ed Sheehan and all the other Korean War veterans who fought to stop communist aggression, almost 55,000 of whom did not come whom. Please honor all of them and never forget their sacrifice.